CoinLoan Weekly: ETH 2.0 Bug & BTC Network ATH
Price Dynamics
Bitcoin Price
BTC started last week with its min price of $47,410 on October 4. During the past two days, Bitcoin price fluctuated a little and reached $54,647 on October 6, staying relatively stable until the week's end. On October 8, Bitcoin's all-week high achieved $56,100. However, the price went through correction. The news pointed out the possible ETF (exchange-traded fund) approval from US regulator as a catalyst for change.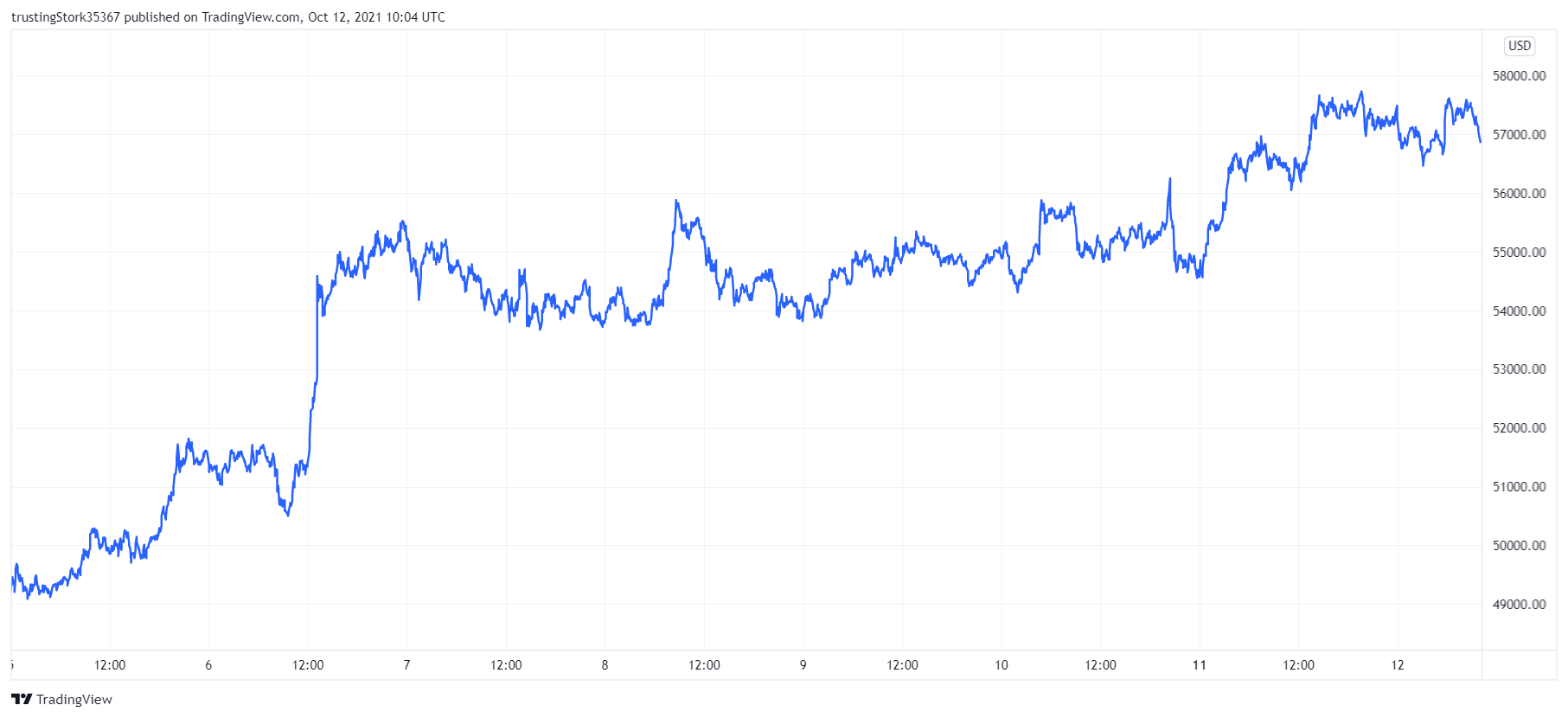 The asset's change in price has been +13.31% in the past 7 days, +0.67% in the past 24 hours. As of October 12, the first cryptocurrency is trading at $56,858.
At the moment, CoinLoan offers BTC-backed loans that are perfect for selling and keeping your Bitcoin for yourself. Interest rates start at 4.5%. Get your loan now!
Ethereum Price
Last week ETH was more volatile than BTC. The second cryptocurrency saw dramatic price fluctuations after starting the week at $3,405 and reaching an all-week low ($3,309) on the same day. On October 6, Ethereum achieved its low point - $3,355. Two days later, charts recorded Ethereum max at $3,665.
As of October 12, Ethereum is trading at $3,436, meaning that the asset lost 4.21% in the last 24 hours and 0.66% in 7 days.
If you wish to get more ETH, try CoinLoan Interest Account. With 7.2% APY, it is one of the best places for passive savings and earnings. Get your interest daily and withdraw whenever you want.
XRP Price
For most of the last week, Ripple fluctuated between $1.02 and $1.10. After reaching $1.12 on October 9, XRP was mostly rising till the end of the week. On October 10, Ripple's all-week high achieved the $1.22 mark.

As of October 12, XRP is trading at $1.07, meaning that Ripple gained 1% in 7 days and lost 7.99% in 24 hours. Buy or sell XRP coins on CoinLoan with zero deposit and withdrawal fees here!
Cryptocurrency News
Bitcoin Network All Time High for Daily Settlement Volume
According to Anthony Pompliano's Twitter, last week was the day when $31B settled on the BTC network, an all-time high for a single day of settlement value. Since the beginning of 2020, it's x40.
Willy Woo, an on-chain analyst, drew attention to the amount of money moving on BTC blockchain (~$190k per second) similar to Visa for US customers ($130k per second) and MasterCard for US customers ($55k per second).
ETH 2.0 Staking Platform Bug
Dmitri Tsumak, the co-founder of Stake Wise, Ethereum 2.0 staking platform, discovered a severe vulnerability in Rocket Pool and Lido protocols that could potentially lead to theft of users' funds if exploited.
Tsumak chose not to elaborate on technical details publicly, but Rocket Pool and Lido confirmed the information. Rocket Pool postponed its launch that was due to commence on October 6. Lido also admitted that vulnerability could have an impact on 20k Ethereum tokens.
Both Lido and Rocket Pool introduced a $100k reward for the bug discovery, taking an issue seriously. Because the vulnerability lets validators and operators assign users' assets — it's a loose end in a registering mechanism in ETH 2.0 network. It turns out the community highlighted an issue back in November 2019.
We recently covered the first ETH 2.0 upgrade, ETH bug that took place in August, and ETH London hard fork in our CoinLoan Weekly posts, feel free to check them out.
SEC Requested a Pre-Motion Conference
A month ago, the SEC and Ripple reached an agreement regarding office recordings. However, the SEC demands Ripple to provide video & audio recordings of the company's meetings where its key employees, including Ripple CEO Brad Garlinghouse and co-founder Chris Larsen, discussed topics connected to the lawsuit. Ripple, for its part, asked for the extended deadline for response until October 8.
Stay tuned for the upcoming news and updates, CoinLoaners!
Ilya S.
Like the article? Spread the word:
Join CoinLoan Newsletter!
Get latest crypto news directly to your inbox
Disclaimer:
The information provided by CoinLoan ("we," "us" or "our") in this report is for general informational purposes only. All investment/financial opinions expressed by CoinLoan in this report are from the personal research and open information sources and are intended as educational material. All outlined information is provided in good faith, however we make no representation or warranty of any kind, express or implied, regarding the accuracy, adequacy, validity, reliability, availability or completeness of any information in this report.