CoinLoan Weekly: Ripple, SEC Agreement & $9M for Polkadot
Bitcoin Price News
On September 7, BTC reached a $52,722 level, an all-week max but underwent correction and followed the downward trend for the rest of the week. Bitcoin's all-week low ($44,466) was observed on September 11.
At the time of writing, the leading cryptocurrency is trading at $45,901, a 2.89% price increase in the last 24 hours and a 10.01% price fall in 7 days.
Buy Bitcoin by depositing your funds via SEPA, SWIFT, or AdvCash. CoinLoan offers crypto-to-fiat and crypto-to-crypto exchange options.
Ethereum Price
As for the second cryptocurrency, Ethereum max price last week was observed on September 7 ($3,957), while its min price ($3,170) was reached on September 11. Last week for ETH was quite unstable: after reaching an all-week high, its price was falling for the rest of the week.
As of September 14, at the time of writing, Ethereum is trading at $3,333.
Get a collateralized loan backed by ETH on CoinLoan. Your Instant Loan will be approved automatically. Just give it a try.
XRP Price
The Ripple price pattern was similar to ETH and BTC, reaching an all-week high in the first two days of the week before falling. XRP high for the week was $1.40.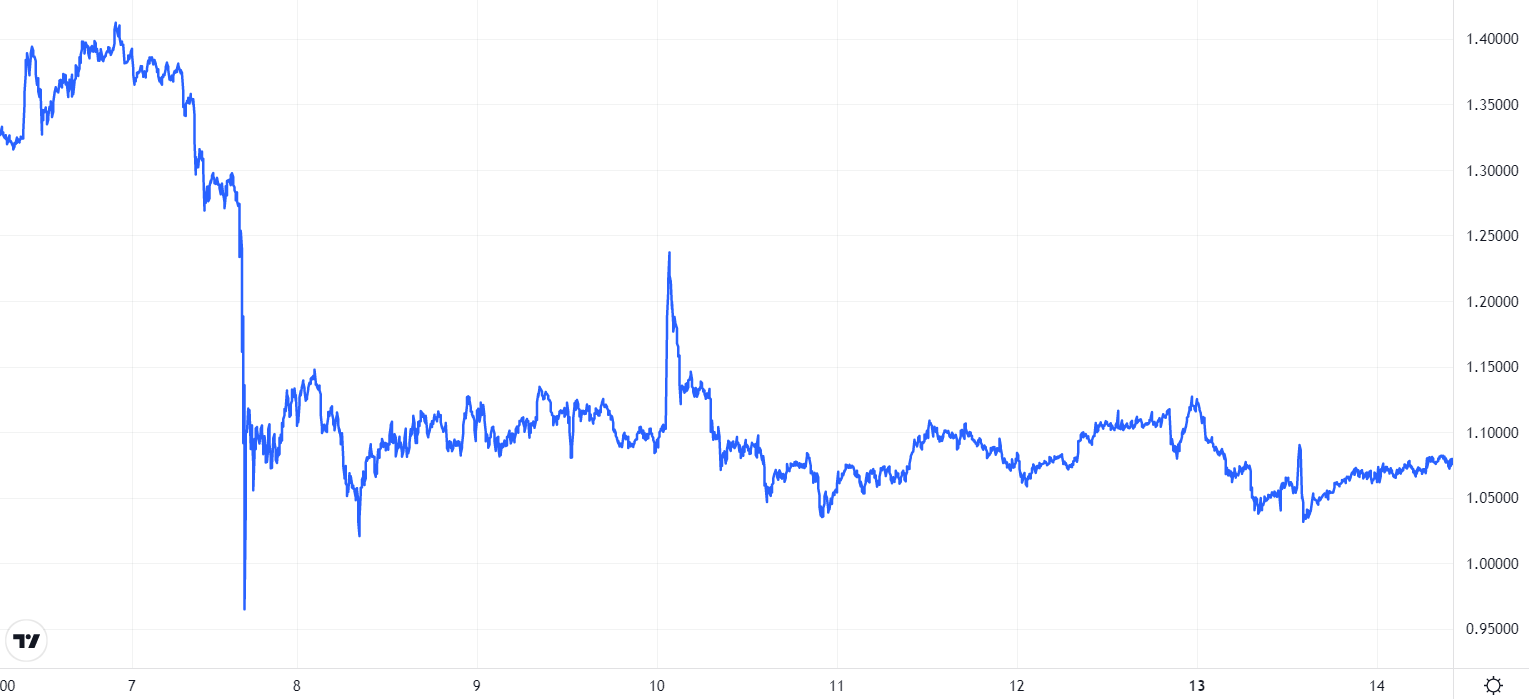 As of September 14, XRP is trading at $1.07, a 2.30% increase in the last 24 hours.
Earning interest on XRP with a CoinLoan Interest Account is easier than ever: deposit your funds and receive interest every day!
Cryptocurrency News
Ripple and SEC Reach Agreement About Company Meetings Recordings
Ripple has agreed to the SEC's request to provide its internal correspondence. They will include various categories of the all-hands meetings starting from the 4th quarter of 2014. The SEC will also get access to the messages where Ripple's employees discussed the investigation (December 2020), the company's outlook on the XRP price drop (February 2018), and the centralization of cryptocurrencies (March 2020). Previously the SEC filed a petition with the court asking for access to "terabytes" of the company's Slack employee messages.
SubQuery Raises $9M for Polkadot Data Protocol
SubQuery, a decentralized data aggregator, raised $9M to build Polkadot's first data aggregation layer: that could strengthen data indexing for the emerging interoperability network.
The company announced that the raised funds will be used to build SubQuery's data indexing infrastructure for Polkadot and Kusama (a canary network for Polkadot) applications. SubQuery's main goal is to expand access to blockchain data on Polkadot and Kusama by creating new markets for data indexing and provisioning.
CoinLoan recently added support for Polkadot. You can use DOT to get Instant Loans in certain currencies and earn up to 7.2% APY by depositing tokens in the Interest Account.
Stay tuned for more exciting news from the crypto world, CoinLoaners!
CoinLoan
Like the article? Spread the word:
Join CoinLoan Newsletter!
Get latest crypto news directly to your inbox
Disclaimer:
The information provided by CoinLoan ("we," "us" or "our") in this report is for general informational purposes only. All investment/financial opinions expressed by CoinLoan in this report are from the personal research and open information sources and are intended as educational material. All outlined information is provided in good faith, however we make no representation or warranty of any kind, express or implied, regarding the accuracy, adequacy, validity, reliability, availability or completeness of any information in this report.