CoinLoan Weekly: Gold-Backed Token, SEC to Postpone Approval of BTC ETFs
Price Dynamics
BTC Price
Last week, Bitcoin price fluctuated heavily, rising up to $49,000 and falling to $46,000. The uncertainty over the Omicron variant continues to spook global markets, affecting digital assets and stocks.
As of December 20, BTC is trading at $45,819, with a 24-hour change of -3.0% and a 7-day difference of -8.0%
Get Bitcoin as collateral for crypto-backed loans at 5.5% APR.
ETH Price
Ethereum has fallen alongside Bitcoin. Last week, the price almost recovered and reached a mark of $4,094 but then dropped all $3,727, the mark recorded over a 7-day period.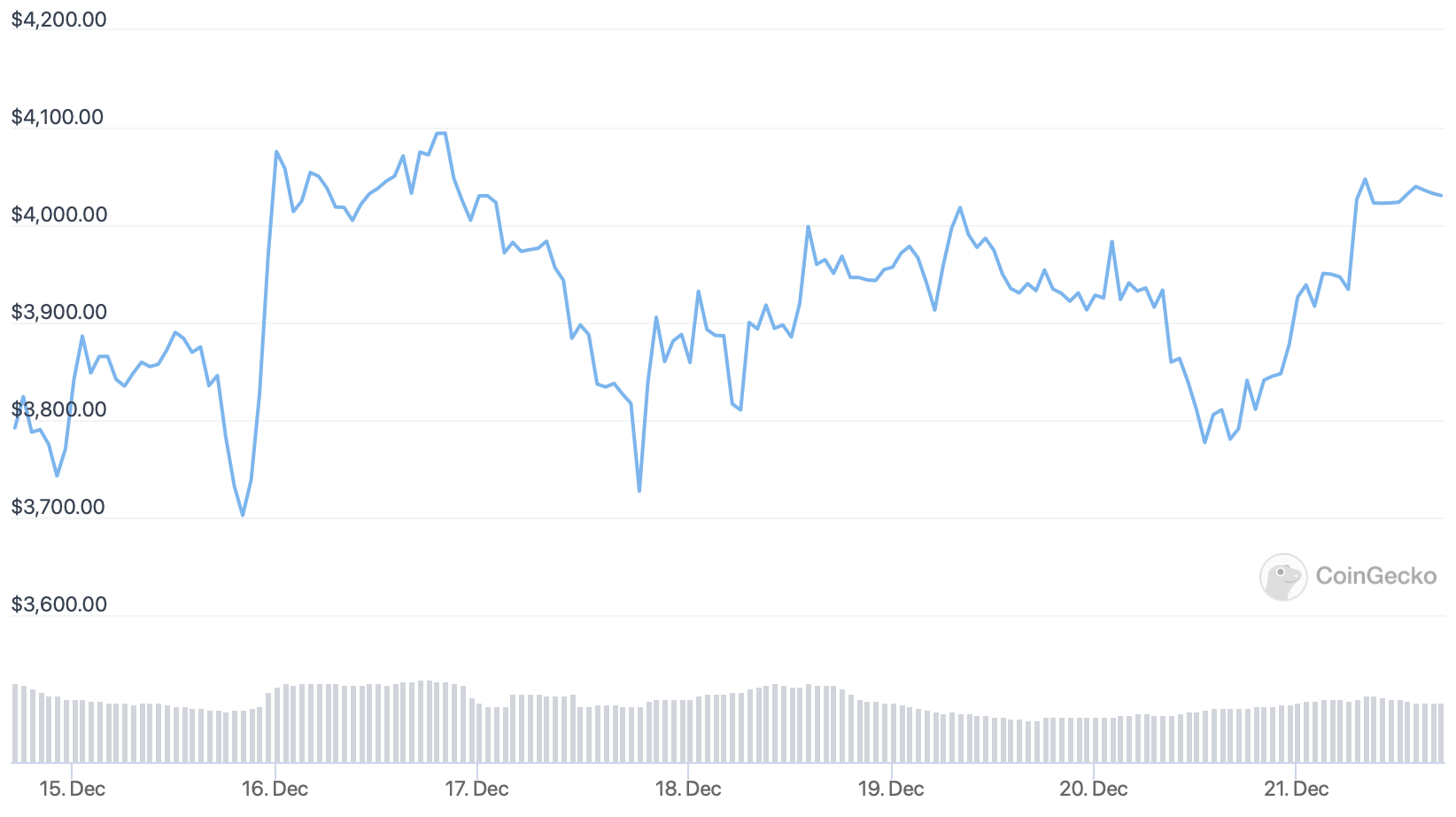 As of December 20, ETH is trading at $3,780, with a 24-hour change of -4.1% and a 7-day difference of -8.6%.
Speed up your ETH accumulation – use the CoinLoan Interest Account to receive up to 7.2% APY.
XRP Price
XRP was steadily moving upwards since Tuesday of last week after a dramatic fall on Monday. The coin climbed from $0.76 to $0.83, recorded on Sunday. On Monday, December 20, Ripple's token spiked, reaching $0.91. However, the upward move was short-lived – soon after getting to a new high, XRP fell to $0.83.
As of December 20, XRP is trading at $0.83, with a 24-hour change of +0.2% and a 7-day difference of -0.4%
Cryptocurrency News
Swiss cryptocurrency platform SEBA issued a gold-backed token
A licensed Swiss-based cryptocurrency platform, SEBA launched a token backed by physical gold.
According to the announcement, the Gold Token will allow investors to own a digital form of the precious metal through a "fully regulated, cost-effective and forward-looking solution."
Investors will be able to exchange tokens for gold through affiliated with SEBA third parties at any time, avoiding storage and transportation fees.
The bank noted that the Gold Token could also be used as a stablecoin for trading or as a means of savings.
SEC postponed the approval of BTC ETFs from Bitwise and Grayscale
The U.S. Securities and Exchange Commission (SEC) has delayed a decision on Bitwise Asset Management and Grayscale Investments' applications to launch the BTC ETFs until February 2022. Approval or rejection is expected on February 6 at the latest.

Bitwise Asset Management applied on October 14 but withdrew it in November. Grayscale Investments applied to convert the bitcoin trust into a Bitcoin ETF on October 19.
Ilya S.
Like the article? Spread the word:
Join CoinLoan Newsletter!
Get latest crypto news directly to your inbox
Disclaimer:
The information provided by CoinLoan ("we," "us" or "our") in this report is for general informational purposes only. All investment/financial opinions expressed by CoinLoan in this report are from the personal research and open information sources and are intended as educational material. All outlined information is provided in good faith, however we make no representation or warranty of any kind, express or implied, regarding the accuracy, adequacy, validity, reliability, availability or completeness of any information in this report.