CoinLoan Weekly: Crypto Prices Drop and China's Crackdown
Bitcoin Price News
On September 22, BTC experienced a dramatic price fall to the $40,498 level, its all-week low. Evergrande, the largest Chinese real estate company, was one of the reasons behind the dip. The company stated it could not cover $300B, effectively sending a high tide to other markets. On September 21, over $1.2B Bitcoin futures suffered from liquidation, taking the entire market with it. Evergrande's stock price fell by almost 19%.
Last week max BTC price was $44,893 (on September 24). As of September 28, Bitcoin is trading at $42,084, a 3.40% decrease in the last 24 hours and a 3.05% decrease in 7 days.
On CoinLoan, you can get a loan against Bitcoin for all your needs. The only requirement is collateral, and your loan will be approved automatically.
Ethereum Price
ETH had a quick price decrease as BTC on September 22 because of the same reason — the second cryptocurrency fell to the $2,720 level, which was an all-week low. But soon started to recover and reached $3,162 the next day, which was Ethereum max during the week.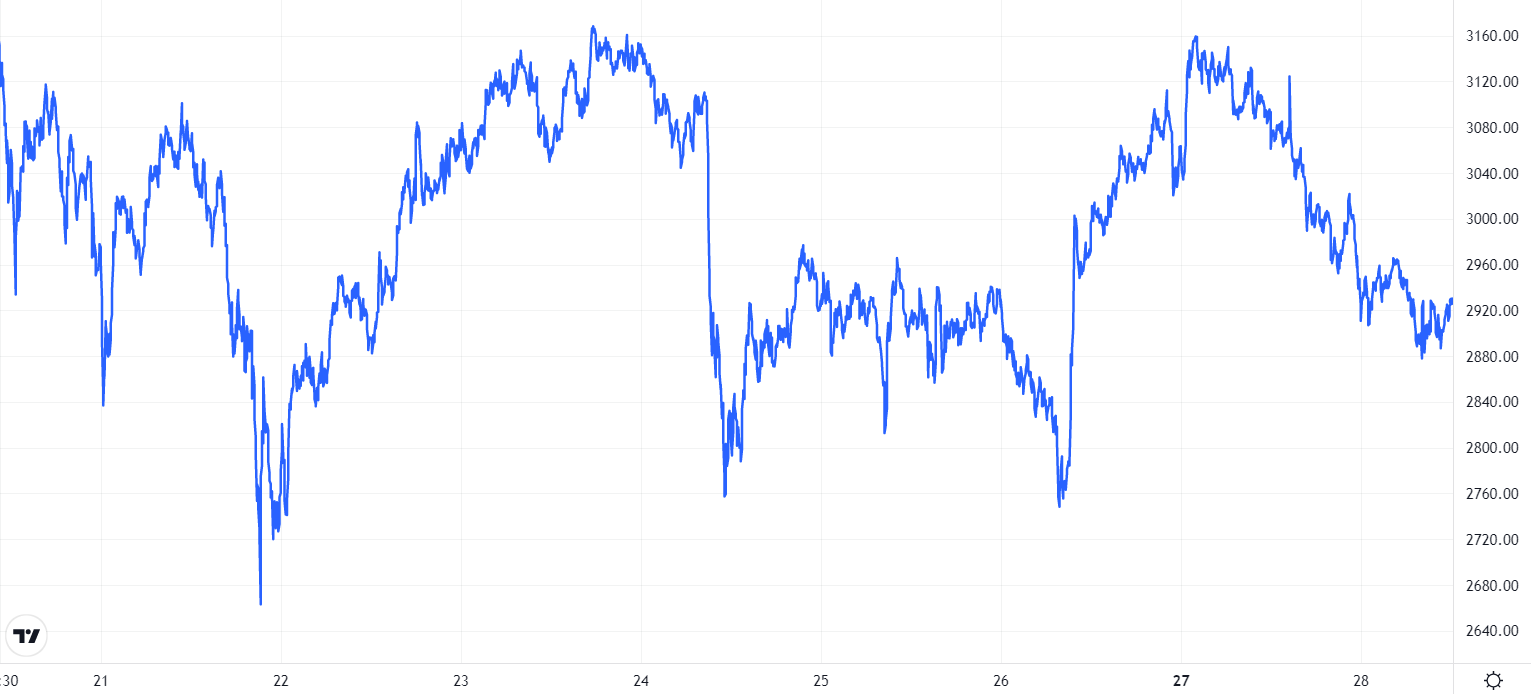 As of September 28, the second cryptocurrency is $2,929. The asset's seven-days change is -4.52%, 24 hours change is -4.89%.
If you have ETH coins and think about selling them, try CoinLoan Interest Account instead. Earn up to 7.2% APY accrued to you daily.
XRP Price
As for Ripple, it also had some price decreases through the week, and the first one being on September 22 as well: the asset fell to $0.86, fixing its all-week low. Then XRP price began to gradually correct, reaching an all-week high ($1.01) the next day.
On September 28, Ripple is trading at $0.93, meaning it lost 1.31% in 7 days and lost 2.07% in the last 24 hours. On CoinLoan Instant Crypto Exchange, buying and selling XRP at beneficial rates is just one click away from you. Try now!
Cryptocurrency News
China to Strengthen Crypto Crackdown
On September 24, a Chinese journalist, Colin Wu, provided the public with more info regarding the Chinese crypto mining ongoing crackdown. According to Wu's translation, the document lists virtual currency mining as an eliminated industry and prohibits any investment activity in this scope. The paper also emphasizes that crypto mining harms the environment due to high energy consumption and carbon emissions.
Crypto enthusiasts also drew attention to the People's Bank of China's notice in WeChat, claiming virtual currencies exchange is illegal. The message triggered an 8% Bitcoin price drop.
However, some called the news FUD, saying the notice was announced on September 15 but posted and widespread only on September 24, 2021.
Crypto Investors Are Seeking Loans from Large Institutions
According to Bloomberg and TCW portfolio manager Bryan Whalen, crypto investors are asking banks for loans against their crypto. During a panel discussion Thursday at the Morningstar Investment Conference, Whalen said that "the market is starting to knock on the doors of big institutions, even in the bond world." He also noted that there are inquiries about crypto-backed lending, but TWC neither wants nor can provide crypto-backed loans. If you are looking to borrow assets for crypto collateral, please check our terms and conditions.
Stay tuned for the upcoming news, CoinLoaners!
CoinLoan
Like the article? Spread the word:
Join CoinLoan Newsletter!
Get latest crypto news directly to your inbox
Disclaimer:
The information provided by CoinLoan ("we," "us" or "our") in this report is for general informational purposes only. All investment/financial opinions expressed by CoinLoan in this report are from the personal research and open information sources and are intended as educational material. All outlined information is provided in good faith, however we make no representation or warranty of any kind, express or implied, regarding the accuracy, adequacy, validity, reliability, availability or completeness of any information in this report.