CoinLoan 2020 Epic Review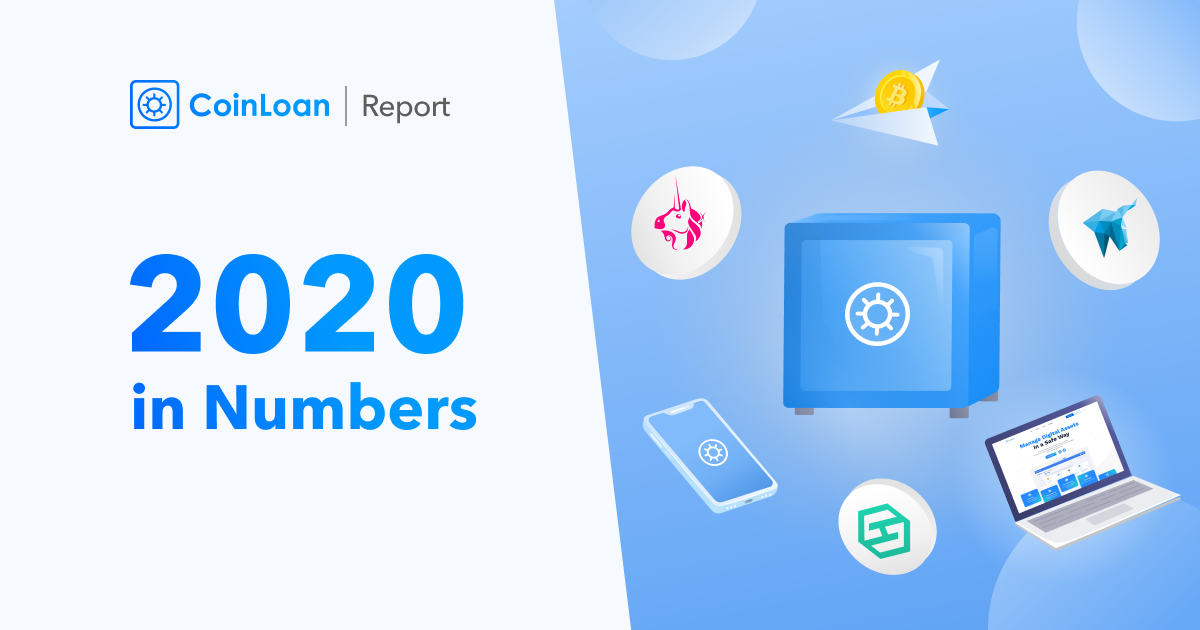 You read our blog once in a while, but the news keeps pouring in, making it challenging to follow recent development. That is why the Coinloan team has prepared a comprehensive review of 2020.
Ready, set, go!
Travel-wise, 2020 was the year when the world stood still. Crypto events got canceled one after another, but somehow we managed to participate in one yet unique offline international conference. This captures the essence of the year — and our new motto: if you believe in crypto, anything is possible!
2020 was a good year for Coinloan. We improved and updated pretty much every little thing - from top products to website design. In a way, CoinLoan has become a role model for others to follow. We are immensely proud of it.
Check out the list of last year's updates.
New Coins
Litecoin (LTC);
Monero (XMR);
Ripple (XRP);
Binance USD (BUSD);
MakerDao (DAI);
Chainlink (LINK);
PAX Gold (PAXG);
Wrapped Bitcoin (WBTC).
CLT New Listings
New Partnerships
Sumsub, a leading compliance service provider, helped us build KYC & AML into the CoinLoan platform.
SelfKey, a prominent identity management company, has developed a Crypto-Lending Marketplace, where its community will get crypto loans.
CoinLoan's interest account was successfully integrated by Raido Finance, our first corporate SaaS client, to generate income.
Products & Features
Brand new crypto-lending feature: fiat and stablecoins can now be used as collateral for loans. We introduced three kinds of loans: crypto-to-fiat, crypto-to-crypto, and fiat-to-crypto.
Staking. CoinLoaners keep CLT, helping to enhance the coin's value. We offer up to 2% on all interest rates as a bonus.
We have rolled out a new repayment setting that enables collateral liquidation by requesting to repay a loan in full or make a regular payment. Also, it allows you to provide compensation with any other assets you have in My Wallet, not only your loan currency.
Security-first updates: account freezing, withdrawal hold after settings change, and sessions termination in Sessions tab.
Our legal team opened an account in InCore Bank AG (Switzerland), enabling our users to send money to a full-fledged bank, not just the payment system.
We are proud to offer SWIFT for international payments and activate EUR & GBP accounts with fee-free deposits and withdrawals.
Even though we did much important stuff last year, the redesigned website was probably one of the most significant changes implemented so far. You probably noticed how convenient and user-friendly it became, but we never get tired of improving it over and over again.
Nevertheless, for real fans of Coinloan, our designer had been creating beautiful 2020 infographics. It's so visually appealing you probably won't be able to resist it.

Thanks for reading our 2020 review. Enjoy our services and don't forget to have fun! More updates are coming soon to make 2021 better than the departed year!
CoinLoan
Like the article? Spread the word:
Join CoinLoan Newsletter!
Get latest crypto news directly to your inbox
Disclaimer:
The information provided by CoinLoan ("we," "us" or "our") in this report is for general informational purposes only. All investment/financial opinions expressed by CoinLoan in this report are from the personal research and open information sources and are intended as educational material. All outlined information is provided in good faith, however we make no representation or warranty of any kind, express or implied, regarding the accuracy, adequacy, validity, reliability, availability or completeness of any information in this report.